Delivery time approx. 2 weeks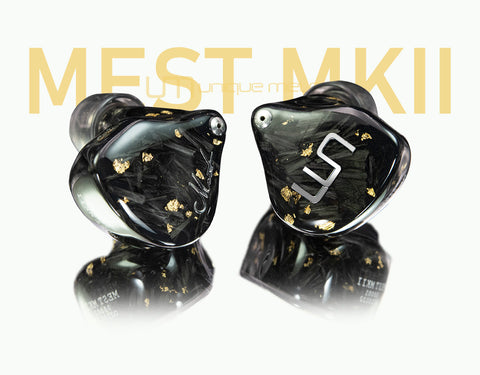 Highlights

dBC-s Dual Sides Bone Conduction System
Carbon fiber + gold foil
Quadbrid construction
Reviews

Unique Melody MEST MKII Review — Headfonics

"If you like an overall full bodied sound with good bass quantity as well as quality, and that presented in a warmer and smoother way, then the MKII is the IEM for you. The MEST MKII is easy on the ears, very musical and very enjoyable and it has a strong enough technical excellence to please the big crowd."
Unique Melody MEST MKII Review - Headfonia Reviews


"MEST mk2 will be very very difficult for any IEM to topple when it comes to details and clarity. Even pricier IEMs will not harm its reputation.
If you have the budget, this is the IEM to get."
Unique Melody MEST mkII : Get one ASAP | The Headphone List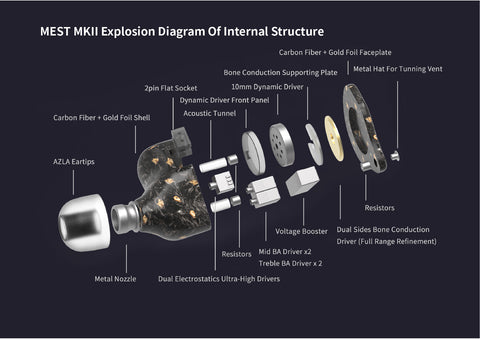 Specification
| | |
| --- | --- |
| Product | MEST MKII |
| DriverTypes | Dynamic + Balanced Armature + Electrostatics (EST) +Bone Conduction (Dual Sides Bone Conduction), 4-Way Quadbrid |
| Driver Counts | 7+1(7 Traditional Drivers + Dual Sides Bone Conduction System) |
| Sensitivity | @1KHz 112 DBs |
| Frequency Response | 20Hz-70KHz |
| Cable Sockets | 2-pin flat |
| shell | One Piece Carbon Fiber + Gold Foil |
| Crossover | 5-Way Crossover |
| Resistance | 12.3Ω |
| Driver Configuration | 1 Dynamic Bass Driver + 2 BA Mid Drivers+ 2 BA Treble Drivers +2 EST Ultra High Drivers + 1 Full Range B2 Bone Conduction Driver |
| Cable | UM Copper M2 Cable Custom Cable |
| Ear Tips | AZLA SednaEarfit Xelastec SS | MS | M |
| | |
MEST vs MEST MKII

dBC-s in the MEST MKII vs. Bone Conduction Driver in the MEST - Both the sensitivity and the response range are significantly improved.

The MEST MKII uses a double-sided piezoelectric Bone Conduction Driver. The driver is located between two carrier plates. In the center of the driver is the vibration plate, which is ceramic coated on both the front and back.

The Bone Conduction Driver now has a larger contact area with the shells (double-sided contact with the shell ), which significantly increases the transmission efficiency and sensitivity.

The dBC-s has an effective frequency response of 500 Hz to 20 KHz, which results in a refinement of the entire frequency spectrum.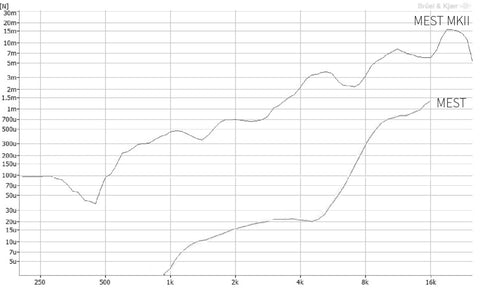 One-piece carbon fiber shell
The effectiveness of the Bone Conduction Driver depends on the coherence of fitting and skin contact. MEST MKII adopts universal shell ergonomic shell design, which greatly improves compactness. The shell itself is also smaller and lighter.
Driver configuration design
MEST MKII uses a quadbrid design. A dynamic driver is used for the bass, which typically offers a more natural bass than the balanced armature bass solution.However, the Balanced Armature drivers have advantages in resolution, especially in the mids and highs

Based on the DD and BA hybrid design, we added two electrostatic drivers for the ultra-high treble extension. And finally, the newly revised dBC-S Dual Sides Bone Conduction System refines the entire frequency spectrum. The frequency range of the MEST MKII can reach up to 70 kHz.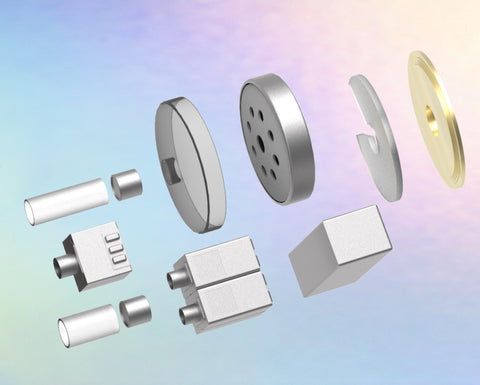 The improved metal vents
The improved metal vents with the brand new design ensure that exactly the same amount of air flows from the rear into the driver housing, allowing the dynamic driver to be used to its full potential.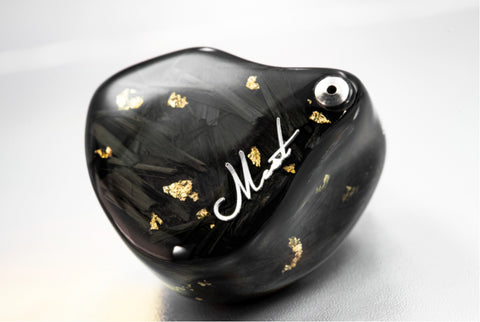 Bone conduction working principle
The Bone Conduction Drivers consist of metallic vibration elements that are coated with piezoelectric ceramic. The ceramic layers bend the metal vibrating pieces, thus generating micro-vibrations according to the changes in AC input voltage.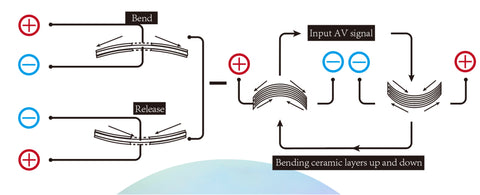 Fuller listening experience of bone conduction and air conduction
The sound of bone conduction

When we eat a cookie, we hear it crack because the vibrations are transmitted through our teeth and skull to our inner ear. Bone conduction sounds can be heard when we eat, drink, or scratch our heads.

Early application

Ludwig van Beethoven, the famous 18th-century composer who was almost completely deaf, discovered bone conduction. Beethoven found a way to hear the sound of the piano through his jawbone by attaching a stick to his piano and clenching it with his teeth.

MEST MKII applies bone conduction technology and transmits a specific range of frequencies by transmitting vibrates the inner parts of the mussels. The sound bypasses the jets and travels directly to your inner ears through contact with the skin of your skull.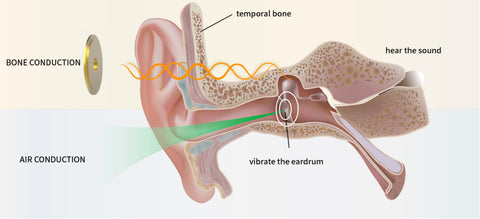 Path: AV signal - bone conduction driver - skull - cochlea - auditory nerve


UM copper M2 cable
Made of copper, excellent flexibility, metal Y-splitter and chin slider. Added 4.4mm connector to options. Environmentally friendly coating material used
| | |
| --- | --- |
| Coating | PVC |
| Material | OCC |
| Gauge | 24AWG 4 cores |
| Sound quality | High |
| Flexibility | Middle |
| Anti-Noise | High |
| Level | High end |

Packaging and Accessories
Headphones: A pair of MEST MKII
Cable: UM Copper M2 special cable
Case: UM "ESP" Double Drawer Black Gift Box
Carrying Case: Dignis Premium Blue Leather Case.
Warranty Card: Warranty Card
Other: Gray Premium Cleaning Pad
Ear Tips: AZLA SednaEarfit Xelastec SS/MS/M
+Silicone S/M/L
Storage clip: storage device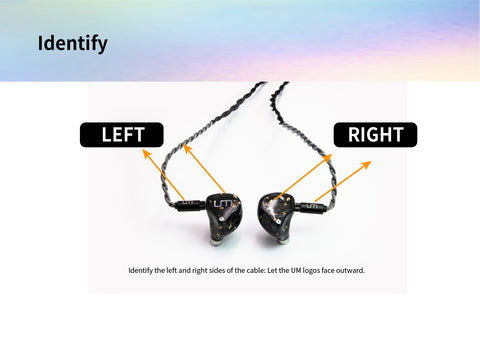 .