Unique item available immediately.
Try it at home now - free of charge and for up to one week
Unique craftsmanship for lovers
Noble Audio's Prestige in-ears are handcrafted by the wizard and Noble boss and mastermindJohn Moulton and are absolutely one-of-a-kind - each pair is one-of-a-kind making them collectors' items!
Khan Prestige Lot 13.5
The Noble Khan Prestige is technically identical to the multiple award-winning Noble Khan, but uses a handcrafted case made of precious woods. This unique piece was handcrafted with a bamboo shell and a Russian curly birch faceplate.
The king of kings
Introducing the Noble Khan, a new design vision of the Wizard.
It uses tri-level hybrid technology to create an all-conquering sonic signature derived from the lineage of the ever-popular Kaiser 10 and Encore .

The Khan features 6 drivers in each black SLA package. Consists of 4 balanced armature drivers, 1 dynamic driver and 1 piezoelectric driver. The stainless steel nozzle ensures durability and comfort.

For the first time in the industry, Wizard selected a handcrafted M3 "Mokume Gane" composite faceplate, resulting in a unique pattern for each IEM.
Reviews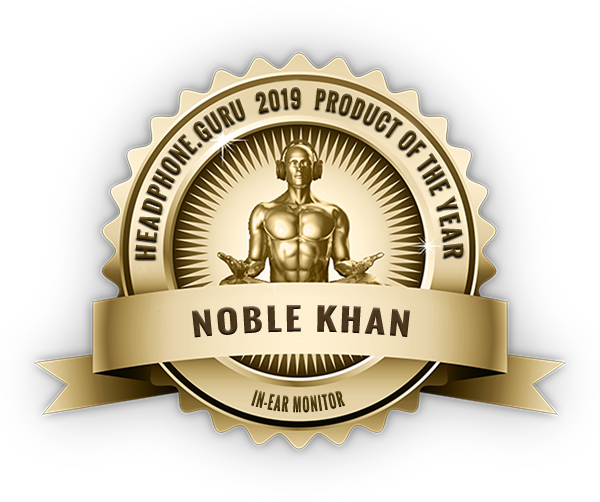 "Noble exceeded my expectations with the Khan. Never once did I miss listening to custom while listening to the Khan. Listeners who are looking for a reference caliber musical instrument for listening and want the best of what IEM's can offer , the Khan will offer you exceptional musicality and that rare experience where all of the sounds are balanced with a live feeling that creates a magical listening experience."
HEADPHONE.GURU 2019 Product of the Year Awards - Headphone Guru

"For those who want something more neutral to natural with a nice sub-bass weighting, good vocal presence and a very coherent and articulate treble performance then the Khan does a fantastic job."
Noble Audio Khan Review — Headfonics

"Noble launched their first hybrid with the Khan, and they had the guts to make it their flagship. I don't know many brands that start with that , but it has proven to be a fantastic choice. Khan convinces me with an excellent sonic presentation with body in the right places and air where it's needed. It doesn't produce an in your face signature, but takes you on to a journey of discovering your favorite tunes in a new and thrilling way."
Review: Noble Audio Khan – King of Kings - Headfonia Reviews


"With it's mid-heavy sound, the Noble Audio Khan offers a rewarding and resolving listening experience on par with any other high-end earphone at this price point."

Rich and robust, offering tons of detail throughout and plenty of soundstage to boot. I had a hard time taking these things out of my ears because they sounded so good, and I'd warn others of this, too."
Noble Audio Khan Review - Major HiFi