Delivery time 1-2 weeks
Test products at home - free of charge and for up to one week
OOR, the only headphone amp with a soul
OOR will redefine the headphone amplifier category. The OOR effortlessly drives any headphone to the maximum of its potential while preserving the essence of the music it amplifies. Extremely low distortion, no fatigue, enormous dynamics and unsurpassed attention to detail ensure ultimate listening pleasure. OOR makes something that is actually very difficult to achieve seem like the most natural thing in the world.
"OOR is manufactured by a group of very talented engineers and industrial designers right in the heart of Poland. They like to refer to Ferrum as the "Brand of Brothers". OOR is your instrument of choice when you want to completely relax and prepare for your next assignment. "

Marcin Hamerla, Founder and CEO HEM
Reviews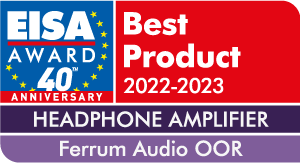 "Following the EISA Award-winning Hypsos programmable power supply unit, Ferrum has focused its expertise on designing a purely analogue headphone amplifier. The OOR (Dutch for 'ear') offers a deep and wide response, and enough power to drive even the most challenging of high-end headphones - whatever model you use, balanced or unbalanced, appears to have been given a shot of extra power . This superior performance is complemented by a compact, desktop-friendly design that emphasizes ease of use, and is a cosmetic match for Ferrum's Hypsos PSU, which can of course be employed by way of upgrade. Balanced and single-ended inputs and headphone outs cater to every listening scenario. "
Ferrum Audio OOR | EISA—Expert Imaging and Sound Association
"Premium headphone amplifier with preamp function. Fully symmetrical construction, high-quality components inside and out, the customer only has to do without a remote control. First-class engineering by the HEM team, who have also developed Mytek products. Suitable for all dynamic and magnetostatic headphones due to high performance at any impedance. "



"The Ferrum OOR on its own is a very good solid-state analog headphone amplifier and preamp. However, paired with the HYPSOS PSU it becomes a great amplifier. "
Ferrum OOR Headphone Amplifier Review - Headfonics

"The OOR is an addictive amplifier with a high technical level and all the power you'll ever need. Ferrum has managed to make the OOR sound precise yet musical and that's exactly what they were going for.
The Ferrum Audio OOR has an excellent price/performance ratio even though it sets you back €2K, or even €3K with the supplementary Hypsos PSU. "
Ferrum Audio OOR Review - Headfonia Reviews
"This amp combo is one of the best pieces of gear you can buy period. Not only is it a powerful system with plenty of features, but its reference style sound output is in a league of its own, offering some of the purest detail that I've heard recently. Even though it's quite a pricey product, the OOR and Hypsos are the perfect endgame amplifier for those looking for a professional system. "
Ferrum OOR With Hypsos Power System Review - Major HiFi
"Right here, right now, the Ferrum Audio duo is one of those products you listen to and think, will this change everything? It's that surprising, and that much fun. Reviewer's Choice. OUT OF THIS WORLD. "
Ferrum Audio OOR and HYPSOS Headphone Amplifier | REVIEW - Part-Time Audiophile
The most important features
Really balanced
The signal path remains really balanced via the XLR inputs and becomes really balanced via the RCA inputs.

Easy to use
Only three controls on the front to control the most important settings.

Ferrum Power Link
OOR delivers very, very good performance right out of the box. But OOR can do even more when used together with HYPSOS. We use our Ferrum Power Link (FPL for short) to connect the two. HYPSOS then reaches its maximum output and, in combination with OOR, unleashes an unheard musicality.

Superior Control
The perfected control of the output transistors protects them and never allows them to turn off, reducing distortion to an inaudible level and keeping them in a state where they are instantaneous can develop their full power, which is crucial for high dynamics, outstanding control and authority in the sound.

Improved transparency
The entire design is geared towards a balanced and very transparent sound signature, making listening fatigue a thing of the past.

Discrete Design
Discrete power amp technology was developed in-house to achieve the best possible analog quality.


Check out the simple design of the front of the OOR, which only hides its intricate design on the back. 100% analogue, 100% natural, 100% musical.
Fully balanced from A to Z, even right after the RCA inputs to get the most out of any headphone. The brightness of the logo on the front of the OOR can be dimmed to be easy on the eyes. Ferrum Power Link for the ultimate connection with HYPSOS.

Combine OOR with HYPSOS to unleash unheard musicality. Together they will surpass themselves.
Look and admire the unassuming look of OOR's front, which only hides the intricate design on the back. 100% analogue, 100% natural, 100% musical.
Specifications

Gain

(dB):

balanced -4 dB, + 6dB, +16 dB / single ended -10 dB, 0 dB, 10dB
Operation:

Fully balanced, proprietary discrete power amp technology
Inputs:

XLR, RCA, 2nd 5 mm DC connector center positive, proprietary 4-pin DC connector
Outputs:

Balanced 4-pin XLR, 6th 35mm jack
Frequency Response: 20Hz - 100kHz 0. 1dB
Output Power Single Ended: 400mW into 300Ω, 2W into 60Ω
Output Power Balanced:

1. 600mW into 300Ω, 8W into 60Ω
THD + Noise: TBA
Input Impedance:

94 kΩ
Output Impedance Single Ended:

22 Ω on pre-amp
Output Impedance Balanced:

44 Ω on pre-amp
Output headphones Impedance:

< 0. 3Ω
Power Consumption:

Idle <15 W
Power Adapter:

100/240VAC to 22-30VDC
Dimension (W x D x H) (in/cm):

8. 6x8 1 x 2 0 inch / 21. 7x20 6x5cm
Weight (kg/lbs):

1. 8kg / 3 97 LBS